Contact E-mail List

The e-mail system has been set up for a few months now and seems to be working well. If you have not already joined then please send an e-mail to...

scouts26thchelmsford@hotmail.com

...to keep up to date with what is going on in the Troop!
REMEMBER, Leaders over 18, you CANNOT sign your own health form. A responsible partner or responsible family member of adult status must complete and sign it for you. Young Leaders and Scouts must have the form filled in and signed by a responsible parent or responsible guardian of adult status who is not attending the event.
SUBS : £30 per term. NEXT DUE - September 2009

After the Easter break. Cheques made payable to...

"26th Chelmsford (Great Baddow) Scout Troop"

Please send all monies in a named envelope.

If you are unsure about whether or not you owe subs, please talk to Gary or Malcolm the Treasurer.

Many Thanks.
Fundraising news !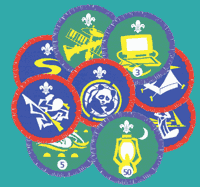 - B - A - D - G - E - S -

We cover a lot of the mainstream badges throughout the course of the year but if there are some badges that you wish to go for outside of Scouts, or you have a hobby, like martial arts or sailing, that you feel you can get a badge for, why not go for it. Check out www.scoutbase.org.uk for more information of the many badges you can obtain or see Gary.